You've probably heard many good and interesting Pokemon GBA ROM hacks out there. Those games are nice, although some of them aren't. The good thing is that you can always play them easily on your GBA emulators either on PC or Android devices.
Fan Made Pokemon Games or RPG Maker XP Pokemon Games are another version of Pokemon games playable on Windows PC. These can't run on an emulator, but there are ways to play these on Android. Don't worry because we're going to teach you how to play RPG Maker games on Android.
If you're wondering why on Android? Especially when you normally play these games on a desktop computer or laptop. It usually runs on Windows or Mac systems unless the game specifies that it can run on other systems.
Then again, it is a Pokemon game made for mobile devices. And with this guide's help, you will now have the chance to play these types of games on an Android device!
Details On How To Play RPG Maker Games On Android
Important Note:
Sadly, not all RPG Maker XP games are optimized to work for Joiplay. So far, this is the list of fan-made Pokemon games that are known to work with Joiplay.
What you need to know about RPG Maker Pokemon games
RPG Maker is a program that allows you to program and create your own RPGs. The program actually dates back to the late 90s, and nowadays, there are numerous versions of it, but all of them are labeled as RPG Maker.
Unlike ROM hacks that are made from existing ROMs, these RPG Maker versions are either made from scratch or use other ROMs as their base.
We're not going into full detail on how to make a ROM because this is a guide on how to play RPG Maker games on Android. The point is that you can't play an RPG Maker Pokemon game on a GBA emulator.
That's because the file format is different, and it isn't in .GBA. It also isn't a file that you can just patch because it is also not a .UPS or .IPS.
When you download the game, it is an actual game that you click and launch. Think about downloading an app on your Android device. Once it is installed, you can just launch it without using any launchers. The other thing is that mobile systems have no method of running these games unless you do these things.
What You Need to Get Started
Now, we're getting to the steps on how to play RPG Maker games on Android, but before that, you need a couple of things first.
1. You need to have an Android phone that preferably has a recent OS or preferably with higher specs. That's because older OS may not be able to run the emulator and the games.
2. The next thing you need is to download the JoiPlay app, which is what we'll use to run these RPG Maker games. You can easily download it from the Google Playstore for free.
3. Then, you need to download an RPG Maker Pokemon game file. For this example, we'll use the Pokemon Fire Ash game, but we're not playing the game, of course. Keep in mind these games consume storage of 150MB or more.
4. This last one is optional, but once you download an RPG Maker Pokemon game, it usually comes in a .ZIP or .RAR file. You need to extract the file to play the game because on its own, the JoiPlay emulator will not launch it.
This means that you need to have an app such as RAR from RARLAB so that you can run it on your Android device.
Steps on How to Get Started
When you have all of these things on your device, they should already be installed on your Android phone.
Step 1
Launch the JoiPlay app, and the image below is what you should see when it's launched.
Step 2
Press the + sign on the lower right
Step 3
Fill up the details from the name of the game, which is Fire Ash, for our example.
For the version, you can put the version of Fire Ash or of the RPG Maker game you have numerous versions and will continue to update later on. This one is optional because you can just put any random number on it as long as you know what version it is or if you even care.
The icon is optional because you don't need to put one, and you can just put any image on it if you want.
Step 4
Now that you've put in some details click on Executable File. If you can't find the game file in your download folder or wherever you saved it, it means that it is still in .ZIP file. That's why we said you should unzip your game file first.
Step 5
When the file has been unzipped, you just keep pressing the multiple folders until you reach the .EXE file. That's the file that you want to choose.
Step 6
Take a look at the image, and that's how it should be, so all you need to do now is add the game. Just approve all of the questions, and JoiPlay will load the game. Just wait for a couple of seconds or close to a minute.
Step 7
When it's done, you'll see your Pokemon RPG Maker game with an icon if you put one on the JoiPlay interface.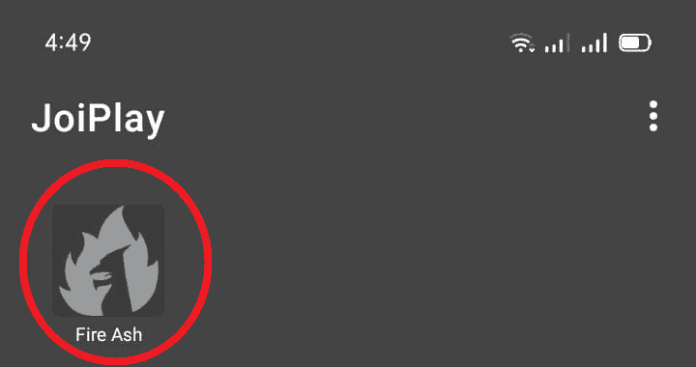 Step 8
Just click on it, and you'll be able to play. That are pretty much the steps on how to play RPG Maker games on Android.
Important things to remember
About JoiPlay, there are those that will download an APK of JoiPlay, but the app itself is available from the Google Playstore. If you choose to go about using an APK, then you may have already down everything that you need.
When using JoiPlay, it may require you to download the JoiPlay RPG Maker Plugin. You can download it separately, but the app can also download it automatically when it asks you to approve it. Just download it, install it, or it will install automatically, and you're good to go.
Extracting your RPG Maker games
There are a lot of apps for unzipping files, and we can recommend this one which is called Files By Google. That's because it is free, effective, and officially made by Google, so you know you're good.
You can use the unzipping app to unzip the game on your phone. Another good way is to unzip the file on your desktop computer. Then, copy the unzipped file on your mobile device.
Potential problems
Can't find or read the game file
This can happen because the file is either unzipped or it was incorrectly done. The file could also be corrupted, so you just have to unzip the file again until everything is done properly.
The game is laggy
This can happen for a number of reasons, and one of them can be because your Android phone may be a bit old. It doesn't have to be the phone, but its system or OS. The system may not be able to handle the game, causing it to lag or have a low frame rate.
In Closing
Now that you know how to play RPG Maker games on Android, you may want to try it today. There are a lot of interesting RPG Maker Pokemon games out there. They are often visually more advanced than Pokemon ROM hacks while maintaining the gameplay mechanics of classic Pokemon games.
Just remember that the .ZIP file isn't always the final data space for the game. You could be downloading a .ZIP file with only 200MB, but when you unzip it, it will turn into around 500MB or more.
These games have big data sizes and not the same ones as ROM hacks, which are less than 50MB, so just keep that in mind.