Thousands to millions of mobile users already have the My Boy GBA emulator app installed on their Android devices. Using My Boy, you can play whatever Game Boy Advance games you have conveniently, fast, and smoothly on your mobile phone.
As easy as importing a GBA game on the app, you can already experience what a real Game Boy Advance console owner feels. One functionality that some player seeks is the cheating feature, but sadly, free version owners have limited access to it.
To enjoy the full functionalities of My Boy, you must pay a small price for the app. Is it worth paying the price? I'd say yes, and I definitely recommend getting the paid version. For a one-time price and unlimited use, it's a good buy, especially if you're a Pokemon GBA rom hack player.
My Boy Free Version – User's Common Problem
One common problem every My Boy free users encounter is the "Buy full version" notification which appears when entering multiple lines of cheat codes. This message prevents users from accessing the premium features of My Boy.
Free users are only limited to one line of code in a single cheat. Although some cheats have one line of code, you will more likely need to enter multiple liner codes in the future.

If purchasing the paid My Boy is not an option for you and no other choice but to stay with the free version, consider following this tutorial as this can surely help you activate almost any multiple-liner cheat codes on My Boy free version.
The Solution: Easy Trick For Adding Multiple-liner Cheat Codes on My Boy Free Version
This tutorial applies to almost any GBA game support GameShark codes. For this guide, we'll be using the Pokemon FireRed game and assuming you will activate a Pokemon FireRed cheat. You can watch a video version of this tutorial on Youtube, click here.
Step 1
Open My Boy Free application, tap on the menu icon, go to "Cheats" and tap "New Cheat" or the "+" icon to add a cheat.
Step 2
Find a multiple-liner cheat you wish to enable. Assuming you want to activate walk through walls with the code of 509197D3 542975F4 78DA95DF 44018CB4. The walk through walls cheat is a two-liner cheat, the first line is 509197D3 542975F4, and the second line is 78DA95DF 44018CB4.
Step 3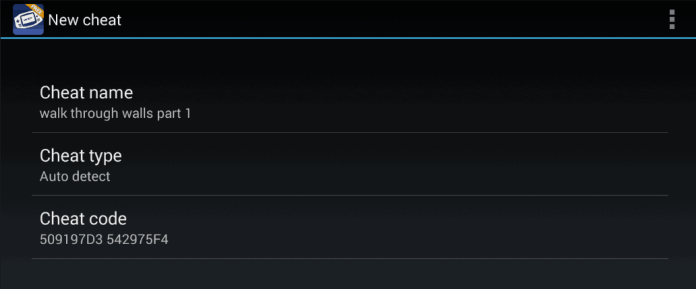 Tap on the cheat name field and name it whatever you like; for this example, the name is "walk through walls part 1". Leave the cheat type field to "auto detect" and paste the first line code which is 509197D3 542975F4 in the cheat code field. Press the back button to return to the Cheats list. Proceed to the next step.

Step 4
Repeat the process stated in Step 1 to add another cheat. In the cheat name field, enter another name; in this tutorial, we'll use "walk through walls part 2". Again, leave the "cheat type" field to auto-detect, and in the "Cheat code" field enter the following line code which is 78DA95DF 44018CB4. The outcome should look like in the image below.

Step 5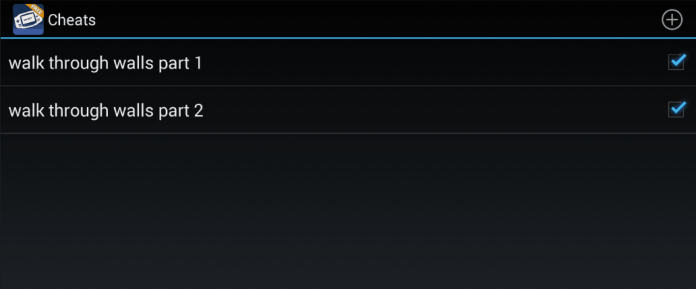 Finally, press the back button to go back to the Cheats list section, and the overall result should be the same as in the image shown below; also, the cheat should work just like in the following picture.
Will This Trick Still Work In The Future?
I hope so, but it has been there for several years already, and hundreds of MyBoy free users are still taking advantage of it.
Conclusion
There you have it! The cheat should work now without problems. For those three or more liner cheats, repeat steps 1 & 3. You can watch this tutorial in action, see How To Enter Multiple Lines of Cheat Codes on My Boy Free Version on Youtube. Got a question regarding this tutorial?
We love to hear your thoughts and feedback with what you learned from our guide above. Hope this helps and please leave your comments in the comment form below.