The Visual Boy Advance is indeed one of the best emulators out there for the Gameboy Advance. It is easy to use and allows you to put cheats, record your gameplay, and do the old quick save, then quick load feature. We created our review for Visual Boy Advance along with its pros and cons to help you get started using it.
We highly recommend VBA to players who wish to use cheats in their game, as this emulator fully supports cheating.
However, there are times when people will encounter a problem with the VBA, and one of them is the dreaded white screen. Don't worry because you can learn how to fix the white screen problem on Visual Boy Advance with these easy steps.
Other VBA-Related Issues
Fixing White Screen Problem for Visual Boy Advance
Solution 1: Download this Visual Boy Advance version
The problem could be that you're using an older version of the VBA. The VBA had numerous versions back in the day because the newer versions updated something. You can look for the latest VBA assuming the one you're using isn't up to date. You need to download the stable version of VBA for cheating because you can't just update the one you're using.
Solution 2: Use Another ROM
It could be a case where the ROM is the problem. There are some ROMs that are faulty and even damaged. You can try using another ROM and see if the problem persists.
Solution 3: Reinstalling VBA
This one may only be applicable for Visual Boy Advance emulators that you get from an app store. You can get them for free, and there are those that you have to pay for. The problem could be that the VBA isn't compatible with your current OS. You could also do the good old trick of uninstalling and installing the VBA app again.
Solution 4: Setting Save Type to "Flash 128K"
If all of the above-mentioned solutions won't alleviate the problem, then this solution usually works most of the time.
Step 1
Click on Options in your Visual Boy Advance and then click on Emulator.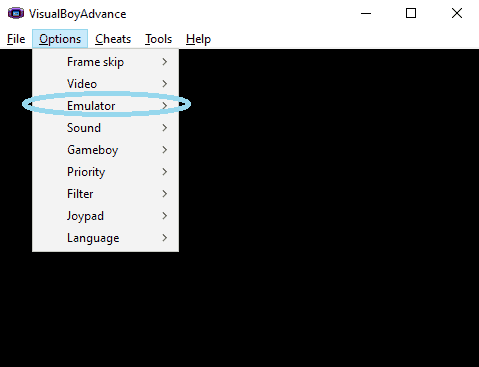 Step 2
Click on the Save Type.
Step 3
Based on the image below, you need to click on Flash 128K. This changes the save type, and on the image, it is set on Flash 64K. You don't need to change it if there isn't any problem with the game in the first place; hence, it is set to Flash 64K.
Setting it to Flash 128K from the start doesn't change anything, so you can also do that. Once you're done setting it to 128K, simply restart or close your VBA and open it again, and everything should be working fine.
In closing
Now that you know how to fix the white screen on Visual Boy Advance, you can enjoy your games once again. Just remember that not all of the games turn the screen white, but in case it happens, you can always fix it with ease.