We've made a lot of articles related to patching ROM hack files. There are those that come in IPS, UPS, BPS, and others. A lot of the patches that we have are for Windows and Android (See related topics below).
The question is, what about the macOS? Don't worry, because this is how to patch ROM hacks on Mac using MultiPatch.
First off, you'll need a couple of things, but don't worry because we'll guide you with all the necessary steps. That way, you can patch your ROM hack files and play them on your Mac.
We'll also include other instructions and other data that you might need when it comes to the entire process.
How to Patch ROM Hacks on Mac using MultiPatch
What you need for the process
The ROM hack
The first thing that you'll need is the ROM hack file, that is not in the GBA format. For this example, we'll be using the Pokemon Unbound ROM hack. This file comes in the UPS format and it is already unzipped from being a RAR file. You can easily do that on your Mac so make sure that the ROM hack file is a UPS, IPS, or BPS.
The Base ROM
The Base ROM is what we'll use for the ROM hack to be patched on. Pokemon Unbound's base ROM is Pokemon FireRed. That means you'll need a copy of FireRed which would already be in a GBA format. Be sure to find out which base game is for which ROM hack. The others would be LeafGreen, Sapphire, Ruby, or Emerald. The other thing is that a specific version of the ROM may be required.
The MultiPatch App
When you want to know how to patch ROM hacks on Mac using MultiPatch, then you need the app. The MultiPatch is the app or program that will be used to patch the ROMs. When you don't have one, you can easily download it online for your Mac.
See this tutorial in Action
We have created a video version of this tutorial for readers who wish to learn the process in a video form.
Steps on how to patch ROM hacks on Mac using MultiPatch
Now that you have all three of those requirements, here are the steps to it.
STEP 1
Launch the MultiPatch App
STEP 2
Click on Browse on Location of Patch File
STEP 3
Choose the ROM hack file (which in this case is Pokemon Unbound in UPS format). Then, click Open
STEP 4
Click on Browse on Location of File to Patch
STEP 5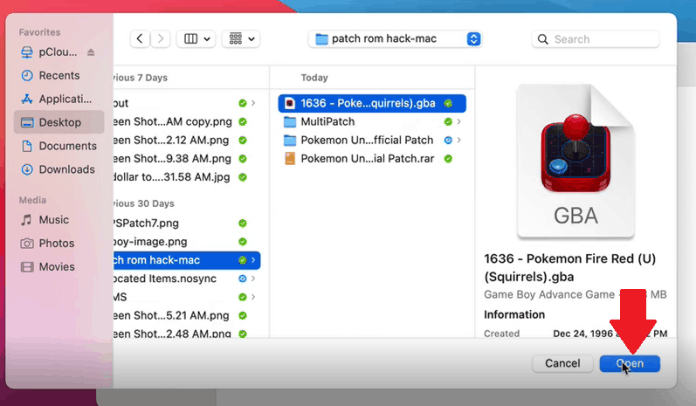 Choose the Base ROM file (in this case is Pokemon FireRed in GBA format). Then, click on Open
STEP 6
Click on Browse on Save Patched File as
STEP 7
Save the newly patched filed with any name that you want.
STEP 8
Click on Apply Patch
STEP 9
Wait for the process to finish and click on OK when it's done
STEP 10
Your newly patched file should appear in your files right now
STEP 11
Launch the newly patched ROM hack to see if it now works and you're done.
In Closing
Now that you know how to patch ROM hacks on Mac using MultiPatch, you can finally start downloading, patching, and playing ROM hacks on your emulator of choice! If the patch doesn't work, there are two possible reasons;
Wrong base ROM used
The ROM hack requires a specific base rom version (some requires v1.0)
Faulty rom hack file – Could be the outdated
Take note: When patching fails and if the base ROM is correct, then the version of the ROM itself might also be the problem. There are ROMs that have different versions so be sure to check the right one you would need to use.